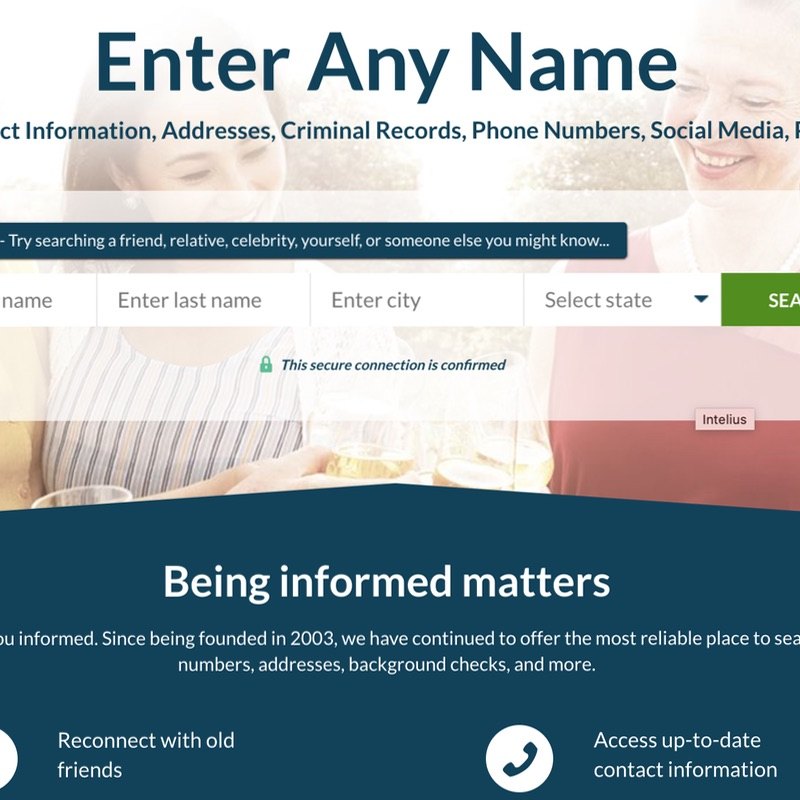 Intelius.com is a public records business located in Seattle. From its website and iOS and Android apps, Intelius provides information services such as people and property lookup, background checks, and reverse phone lookup services. People also have the ability to perform reverse address lookups to find people using Intelius' services and an address. While these types of data brokers do sometime provide individuals with some valuable services (background checks for business safety for example), they also pose a substantial privacy issue for many ordinary people who are concerned about stalkers, identity thieves, or even just personal rivals finding out personal information about them. Anybody's data can appear on these businesses site without their explicit consent and other people can make money on your data which can cost you a big job, get you doxxed, or have a personal enemy find out where you sleep at night.
If this practice a concern to you, you can delete your profile from Intelius and remove it for free. Here are steps to cancel the unasked for service.
1. Go to their opt-out removal form at intelius.com/optout and search for your profile.
2. Find your account and select it and continue.
3. You must enter your email address to confirm your opt-out request. Input your email address, solve the CAPTCHA, and proceed.
4. You will be directed to a page saying that your opt-out request was received and you'll get a reference number via the confirmed email address you submitted in the previous step.
5. After about 24-72 hours, you will get an email stating that your opt-out request has been fulfilled and your listing has been removed.
6. Please visit Intelius and search and verify your data has been removed and no duplicate profiles have somehow been created.
7. Periodically repeat the previous steps. As their data sources and crawlers can find your data again, there's always a possibility that your data will show up again in the future. Monitoring it for the long-haul is super important.
Managing your personal internet appearances and reputation like this is a time-consuming, but valuable task that can help you get better jobs, avoid identity theft, and reduce your Internet footprint, and your real world risk level. You can always do this yourself of course, but if you don't want to spend the time needed to navigate Intelius and the many other data brokers' confusing forms, monitor them for compliance, and continuously do searches to ensure that your data is off of these sites, you can instead use a reputable privacy service to ensure that your phone number is removed from the Internet permanently. It is always your choice whether or not to do this, but taking care of your Internet safety can help you out immensely in the long run.
We hope you enjoyed reading this guide and learned something new! Check out our Learning Center to learn more about online privacy and security or consider subscribing to our Online Privacy Service to remove your phone number, name, and address from Google, Bing, Yahoo, and DuckDuckGo search results and hundreds of data broker sites.